Discover more from 🍯 Stirring the Senses 🍯
Immerse yourself in a delightful world of seasonal feasts and embrace the cozy joys of life, garden, and home. It's your chance to unwind and experience all the beauty that awaits you. Please join us as a paid or free subscriber! 🌿🌸🍃
Sunday Savorings!
A Peek at my Week
Getting ready for the Holidays
Ah, the air grows crisp, and the anticipation of the holiday season fills our hearts with excitement. For me, and perhaps for you too, this time of year is simply enchanting. A lifelong journey in the world of tableware has cultivated a deep love for seasonal celebrations within me. It's a passion that I inherited from my dear mother, whose Thanksgiving table and the feast she prepared were nothing short of breathtaking. These memories, they're not just mine; they're cherished by all who gathered around her table.
I can still picture it all so vividly—the day starting with the comforting aroma of her stuffing, seasoned just perfectly, with no onion spared. Everything about it was traditional and heartwarming, her blue and white porcelain and knotty pine kitchen and lace apron, to the beautifully basted turkey, scalloped oysters and the divine pumpkin pie. Huge bowls of everything delicious. Her mashed potatoes held a secret that she's taken with her to the great kitchen in the sky. Then there was my absolute favorite, the creamed spinach adorned with roasted chestnuts. And let's not forget those incredible pies. Even today, when I prepare the same meal, it feels like a timeless connection to my mother and those cherished moments.
Though our Thanksgivings have evolved with blended families, the warmth and joy remain the same. Every year, I find myself in the kitchen, just like she did, a lovely glass of Sherry in hand, cooking and reminiscing about the incredible fortune of experiencing that traditional feast. This year holds an extra layer of magic as we celebrate our darling Wolfie's first birthday. Both our families will gather around the table, continuing the tradition. Last year, we brought plates of dinner to the hospital when he was born, and this year, we get to indulge in pie and watch him open his presents. It's a blessing beyond measure.
With a lifetime spent setting tables, styling for cookbooks and TV shows, and hosting dinners and cocktail parties, you can expect Sunday Savorings to reflect that spirit in the coming months. I adore sharing ways to make our holidays special and reflective of who we are. I'm equally eager to hear your ideas, so please don't hesitate to share them. As Thanksgiving approaches swiftly, I thought it fitting to start this weekend's Sunday Savorings with a little primer on setting a table that tells your unique story—a table that truly reflects YOU! 🍂
---
Creating a Cozy Thanksgiving Table
As the season turns and Thanksgiving approaches, our hearts and homes resonate with the promise of cherished traditions, gratitude-filled gatherings, and, of course, the tantalizing feast that awaits. However, beyond the delectable aroma of a Thanksgiving dinner, there's another element that holds a special place in our hearts—the beautifully set table. It's not just about enhancing the meal; it's about creating an atmosphere that invites loved ones to come closer, share stories, and make memories.
In this spirit of togetherness, let's embark on a journey to craft a table that radiates warmth, elegance, and a dash of rustic charm. Whether you're hosting a small family gathering or a larger get-together with friends, a thoughtfully set table will not only complement the feast but also envelop your guests in an atmosphere of comfort and hospitality.
In a world brimming with elaborate table setting ideas seen in glossy magazines and Food Network TV, it's easy to feel overwhelmed. While these grand designs are awe-inspiring, I wanted to offer you simple yet impactful suggestions that you can implement without much difficulty. Even incorporating just three of these ideas will add more sparkle to your holiday table, making it a reflection of your unique style and the warmth of your hospitality.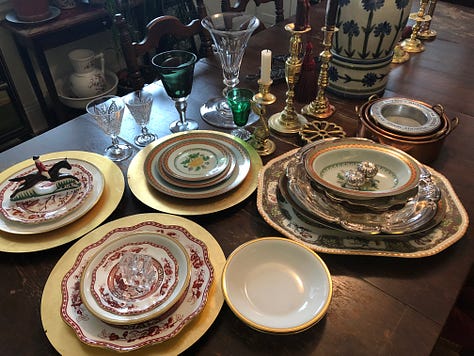 However, I have put together over the years a Pinterest board Called Autumn Table Settings & Food, chock full of things that I love and ideas that I think are easy to incorporate into your holidays. I hope that you enjoy it!
Embracing the Essence of the Harvest
Our quest for the perfect Thanksgiving table begins with embracing the natural beauty of fall and the abundant harvest. Think of dinnerware in earthy tones of greens, warm browns, and rustic oranges, or adorned with motifs inspired by nature, like leaves, birds, or acorns. Even contemporary dinner plates in shades of black, gray, cream or white can benefit from the addition of some warm color and traditional fabrics. Accent plates, known as chargers, can add a subtle touch of autumn charm to any china pattern. Don't be afraid to mix and match anything, AND most importantly, when someone compliments you on your blended dinnerware or glassware, don't ever say," Oh but it would have looked so much better if everything had matched." Instead, say "thank you" and let them marvel at your creativity!
Mixing and Matching with Grace
Don't be afraid to infuse your table with patterns and colors that reflect your unique style. While tradition is dear, the beauty lies in the art of mixing old and new, introducing fresh patterns and colors. Go ahead and mix silver, copper and pewter. Don't worry about mixing porcelain and stoneware. If you have inherited treasured pieces like Grandma's gravy boat, consider incorporating them into your table setting; their rich history adds an extra layer of warmth to the occasion. Simple things, like color and texture are what will make everything on your table blend seamlessly.
Layers of Color and Texture
The magic of your Thanksgiving table lies in the layers—both in color and texture. The rich, autumnal hues can beautifully complement modern black dinnerware. Imagine the addition of yellow, rust, taupe, burgundy, or red pieces to create a look that is not only seasonal but also contemporary. Even if you've grown weary of your current china — charger plates, colored glassware, and fresh linens can breathe new life into your setting.
A Symphony of Colored Glassware
Colored glassware is a gem in the world of table settings. It not only highlights specific colors in your china but also adds an element of whimsy and sophistication. Consider introducing festive champagne glasses to elevate the mood further. Don't shy away from combining different styles and colors of glassware to create a unique and visually appealing ensemble.
The Importance of Linens
Linens play an indispensable role in table dressing. While traditional tablecloths are a classic choice, think outside the box—blankets, hemmed fabric, or scarves can serve as alternative table covers. Placemats, often overlooked, can sit under the plates or rest atop the tablecloth, adding layers of textiles and colors that enhance the overall aesthetic.
Centerpieces that Speak of Plenty
For your centerpiece, let nature's bounty inspire you. Create arrangements featuring seasonal fruits, vegetables, or gourds. Not only do they add a delightful touch, but they also pay homage to the essence of Thanksgiving — the harvest's abundance. Be mindful of the colors in your china pattern, aiming for a harmonious blend of hues.
Seek inspiration from nature—gather evergreen boughs, fall leaves, pumpkins, gourds, pinecones, or candles to create an eye-catching focal point. For an exquisite twist, gather feathers and arrange them in a vase or fill a bowl with bright orange kumquats. You can even craft a charming cornucopia by molding tin foil into a cone shape, wrapping it with strips of crescent dough, and filling it with dried fruits and delectable treats.
Don't forget to ensure that it doesn't obstruct anyone's view across the table, promoting unobstructed conversation and connection.
Individual Centerpieces with Heart
Consider creating individual centerpieces—demitasse cups filled with delicate flowers or miniature terra-cotta pots brimming with nuts. These small, thoughtful touches infuse your table with character and charm.
Simple Elegance with Glass Hurricanes and Grapevine Wreaths
A glass hurricane globe, placed on its side, can serve as a tasteful low centerpiece. Fill it with seasonal elements like apples, Indian corn, greenery, pine cones, or flowers for a refined yet rustic look. Another delightful option is to lay two or three decorated grapevine wreaths flat on the table, with bowls of food in the center, all surrounded by herbal topiaries.
The Warmth of Candlelight
Opt for unscented candles on your table to ensure they don't compete with the tempting aromas of the meal. Arrange candlesticks in odd numbers, varying their heights and shapes for a balanced and visually pleasing display.
Homemade Treasures
Consider crafting your own centerpieces; homemade creations carry a special touch of love and care. Thanksgiving embodies the spirit of nurturing, and what better way to express your gratitude and love than through beauty, enchantment, and grace?
It's Time for Family & Friends
As you prepare your Thanksgiving feast and craft a table that radiates warmth and elegance, remember that this day is dedicated to the ones you hold close to your heart. Your family and friends deserve the embrace of a lovingly set table, one that tells the story of gratitude and the warmth of your home. In the end, it's the shared love for life's simple pleasures that truly matters.
So, let your Thanksgiving table be a reflection of your affection, creativity, and the heartfelt moments you're about to share. With each carefully chosen detail, you'll not only create a memorable dining experience but also a lasting impression of your love and hospitality. Wishing you a holiday season filled with warmth, joy, and the magic of togetherness. 🍂 🍁 ✨
---
What I'm drinking
On cozy evenings, when autumns chill begins to embrace Northeast Ohio, there's something truly comforting about sipping on a steaming mug of Concord Grape juice infused with a medley of toasted spices and some madeira. Snow and wind may be on their way, but we've prepared with anticipation, preserving the juicy essence of our generous harvest. A dozen quarts of this delicious juice stand as a testament to our readiness for such moments.
The process of creating this drink is in itself a happy ritual of warmth and anticipation. The fragrant spices, including cardamom, cinnamon, coriander, cloves, star anise, and allspice, are toasted in a cast iron pan and then placed lovingly in a spice bag. After toasting, a gentle crush in the mortar and pestle brings forth even more of their aromatic essence. As they infuse into a quart of warming grape juice, 3 jiggers of Madeira join the dance, elevating this humble brew to something rich and luxurious. With each sip, as the steam rises, we realize the true wealth of these cozy moments, where we find solace, comfort, and the richness of life. 🍇 🍷 🌟
---
A Sweet Does of Self-Care!
"True self-care is not salt baths and chocolate cake; it is making the choice to build a life you don't need to regularly escape from, and that often takes doing the thing you least want to do."
I came across this insightful quote on LinkedIn today. It resonated with me deeply, as I have been on my own journey of learning to establish clear boundaries in my life — with my time and with the people around me.
Part of my self-care routine involves working to disconnect from the constant stream of news, which can be addictive, and instead, taking 30 minutes to take a peaceful walk with my dog, my husband, or both, leaving my phone behind. I also prioritize a daily catnap, a practice I have maintained since I was 30, now at the age of 64.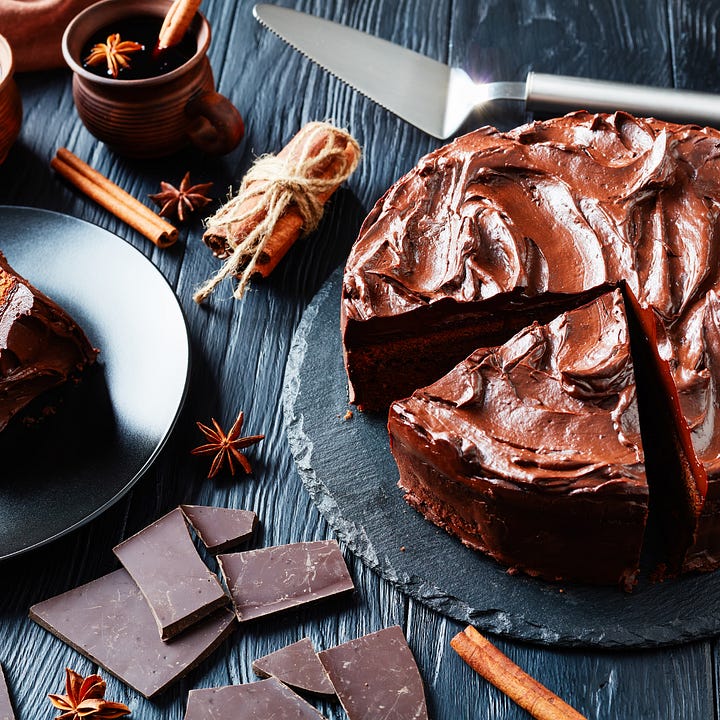 Additionally, I have learned the importance of carving out chunks of flexible time in my schedule, where I can truly be unavailable to others. It means resisting the reflex to answer my phone and instead, giving myself the space I need. True self-care often involves doing the things that may be challenging or uncomfortable, such as acknowledging when something — be it an organization or a relationship — is not serving me and having the courage to say no, without placing blame on anyone else, but prioritizing my own well-being. I admit that I don't always succeed in this, but I am committed to continuously working on it.
Of course, indulging in chocolate cake and a hot bath can be delightful forms of self-care as well. For me, it looks more like enjoying a treat from East Coast Custard with an abundance of sprinkles. It's the little things that bring joy and nourishment to our souls.

Let's remember that true self-care is a journey, and it looks different for everyone. It's about finding what truly nourishes and replenishes us, and having the courage to prioritize ourselves. So, here's to building lives that we don't need to escape from, and embracing the small moments of joy along the way. ❤️
---
Make It Your Own!
As the holiday season unfurls its tapestry of frost-kissed mornings and cozy evenings, let's find joy in the simple rituals that make these days special. Amidst the hustle and preparations, I invite you to pause, breathe in the crisp air, and savor the warmth of these moments. Whether you're setting a table for Thanksgiving, crafting a centerpiece, or simply wrapping your hands around a hot mug, each act is an opportunity to create something meaningful, a reflection of your heart and home.
This season, as you prepare your feast or arrange your table, remember that each choice is a brushstroke in the painting of your celebration. Your unique touch—whether it's a family heirloom on the table, a special recipe in the oven, or the way you fold a napkin—adds to the story you're telling. These details are more than mere decorations; they are expressions of love and heritage, creating a haven of warmth for those you cherish.
So, embrace the beauty of the holidays in your own way. Whether it's through the food you cook, the table you set, or the quiet moments of reflection you find amidst the bustle, let each be an embodiment of your care and creativity. Share your ideas, your successes, and even your mishaps. We're all in this beautiful, chaotic dance together, crafting memories and experiences that will warm us through the winter months.
And as you journey through these days, take time for yourself. A walk in the crisp air, a moment of solitude, or a simple act of kindness towards yourself can be the most profound celebration of the season. Here's to the holidays, to the traditions we keep and the new ones we create, and to finding joy in every corner of our homes and hearts. 🍁🕯️🥂