Discover more from 🍯 Stirring the Senses 🍯
Immerse yourself in a delightful world of seasonal feasts and embrace the cozy joys of life, garden, and home. It's your chance to unwind and experience all the beauty that awaits you. Please join us as a paid or free subscriber! 🌿🌸🍃
Sunday Savorings
A Peek at my Week!
What I'm thinking about
There's so much happening in our world right now, so much sadness, so much noise. It's really hard to emotionally find your footing right now. I think that is why I write, to center myself, to find my own way through the clutter and if I can inspire you at the same time, that's frosting on the cake. You have to find peace where you can, and I hope that I can inspire you to take care of your heart today.  Go out and craft something beautiful or bake a rustic pie. Rake leaves and then jump in them, you know just like you used to do when you were a kid! Brew a pot of herbal tea, bake some scones, slather them with jam and tuck in with that book you've wanted to read. Maybe there's a cherished family recipe, passed down through generations, that whispers of your heritage and the heartwarming gatherings it has graced. Or perhaps you've created a modern twist on a classic dish, waiting for the perfect moment to unveil it to the world. Tomorrow is never guaranteed, so seize today!
I extend to you a heartfelt invitation to take anything I share and infuse it with your own essence, to embellish it with your unique touch, infusing the warmth with stories that only you can share. Allow your heart to lead the way; craft a sanctuary within your home where laughter flows freely, candlelight casts its gentle spell, and culinary wonders await. Make your bedroom a warm and cozy retreat. With every bite from your kitchen, embark on a journey, with each taste or sip, dive into the depths of flavor. Transform your dining space into a cocoon of happiness, shielding you from the chilly outdoors. This is more than just savoring flavors; it's an ode to the present moment, sowing the seeds of togetherness, and harvesting precious memories.
So, gather your loved ones, set the table with intention, and raise a toast to the art of creation. Transform this experience into something uniquely yours, where the simple act of sharing a meal becomes a grand celebration of connection and comfort. 🍽️ 🕯️ 🥂
---
Fairy Granny Time
This week spent with Wolfie (my grandson) has truly been a precious treasure. Our moments together are always filled with joy and laughter, but it's the everyday simplicity of just being with him that warms my heart the most. There are times when he struggles to drift into dreams, and in those tender moments, I cradle him in my arms until slumber gently overtakes him. It's in these quiet acts of love that I find my greatest happiness.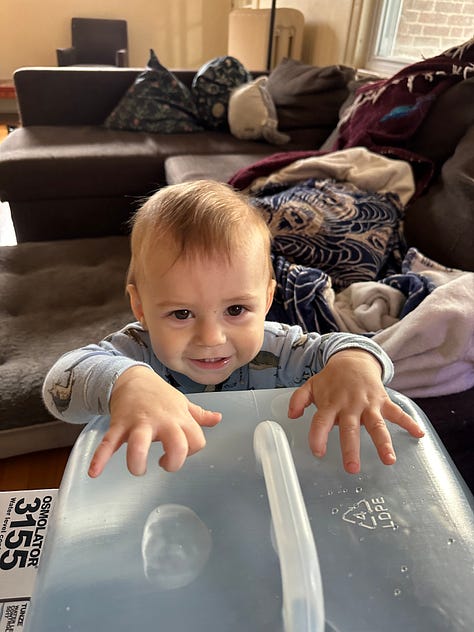 Whether it's feeding him, sharing playful moments, or simply witnessing his enchantment with the world, each instant feels more precious than I ever imagined.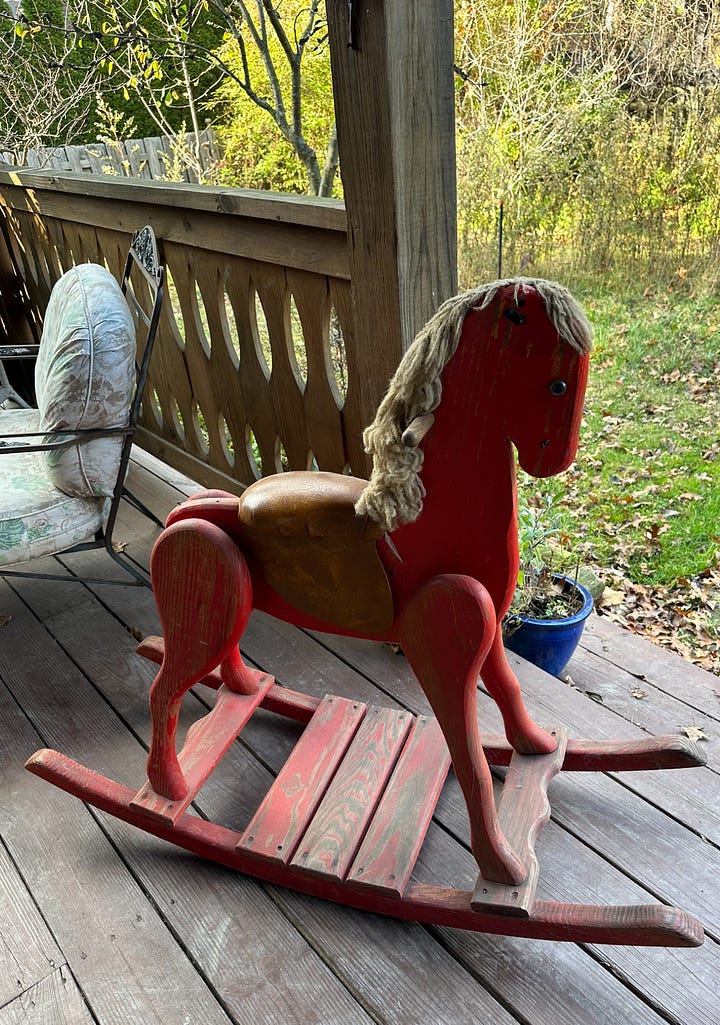 One of the upcoming joys I'm eagerly anticipating is the restoration of a cherished old rocking horse for my grandson. For two decades, it patiently waited in my basement, having once been the trusted companion of countless children who visited my store. Generations of little riders found delight in its sturdy back.
Wolfie always joins us on our visits to the barn, where he watches his mother ride. As a lifelong horsewoman myself, of course I'm overjoyed to see his budding affection for these majestic creatures, especially his dear friend Perry the pony. The prospect of him discovering his very own horse companion for our weekday adventures fills me with excitement. Although the rocking horse may bear the marks of time, it remains exceptionally beautiful in my eyes, full of so many precious memories. I can hardly wait to share the completed project with you all. 🐎 🍃 💫
---
My Birthday Present is Still Unused, and it Totally Terrifies Me!
In the heart of my kitchen, the art of preservation is a cherished ritual. There's a certain delight I find in stirring a bubbling pot of homemade jam, the sweet aroma mingling with the warmth of my hearth. And when I make a pot of soup, it's always in a generous batch, some to savor now, and some to tuck away in the freezer for a future cozy evening. This practice of preparing nourishment is not just about the sustenance; it's a nod to tradition, a way to fill my home with wholesome food crafted with love by my own hands.
Nestled among my treasured kitchen tools is a newcomer: the Presto Digital Pressure Canner — a gift still in its unboxed but unused pristine glory. My little brother, Todd, a happily Jeffersonian kind of guy who balances his days between his therapy practice, woodshop, and the lively strings of his violin, inspired this addition to my home. In his spare time, he also has a Wellness Talks Site on Substack — Todd is a seasoned Mental Health Counselor and Health Educator with a private practice dedicated to helping individuals on their wellness journeys. With his hands deep in the earth of his Rhode Island Garden, he harvests and preserves his produce happily. Here are his absolutely gorgeous cold packed, digital pressure canned carrots!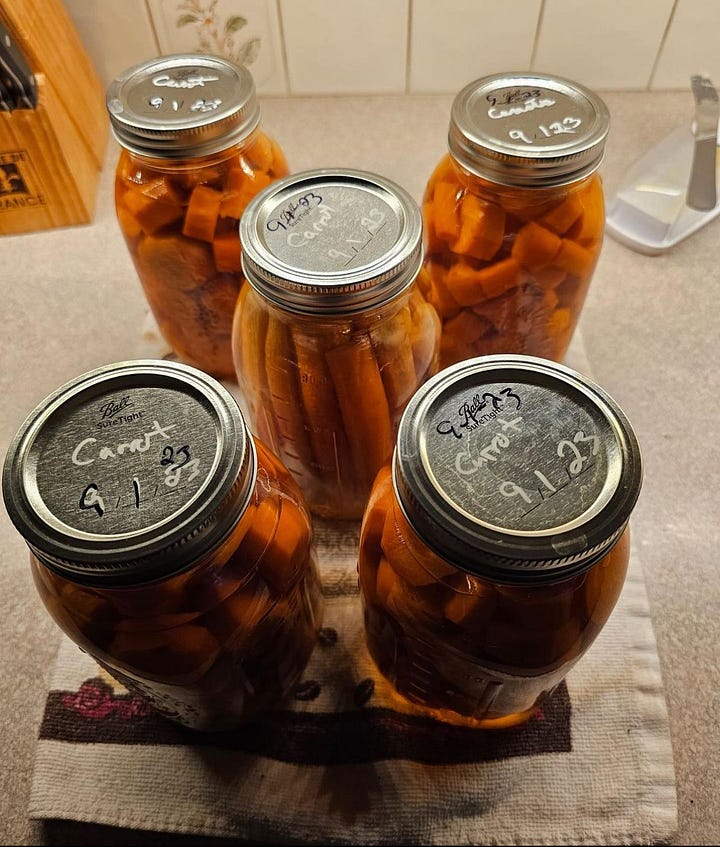 Todd, ever the adventurous spirit, explored the realms of digital canning and, in doing so, passed on to me this modern marvel of culinary technology. It arrived as a birthday present (and August seems a distant memory now), courtesy of my husband. It has since sat quietly amidst the living room decor, its sleek form untouched. I've even found myself a little community of fellow canners online, but I'll confess, there's a hint of trepidation that whispers to me each time I glance its way.
Now, here I am, sharing with you — my circle of kindred spirits — the quiet admission of my hesitation. If by chance you've ventured into the world of digital canning, your wisdom would be a lantern in my fog. My aspiration, simple yet earnest, is to christen this canner with a batch of cold pack carrots by the time our next Sunday Savorings rolls around. So, with a hopeful heart, I ask for your guidance — and maybe just a pinch of good luck. 🤞🏻
---
FAMILY RECIPE: Shepherd's Pie!
Last week, I had a heartwarming conversation with my mother-in-law. She was busy preparing her legendary Shepherd's Pie, a beloved family classic that had delighted her children over the years. As she spoke with pride about this dish, I couldn't help but be drawn into the warmth of her memories and cherished recipes.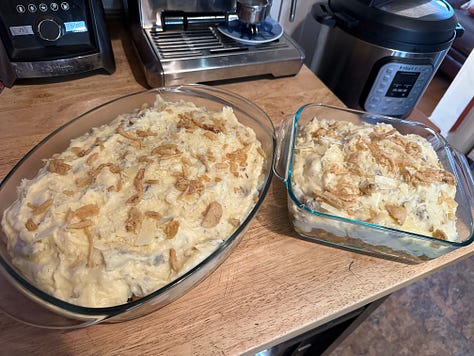 As the winds grew brisk and autumn leaves flew gracefully all around, I realized that the time had come to make this recipe for Jim. So, inspired by her words, the time change and the quickly changing scenery, I decided to follow in her footsteps. I prepared not one but two hearty casseroles — one for us and another for our Alex, Angie & Wolfie.
This, my friends, is the epitome of comfort food, a perfect sort of stew covered in velvety mashed potatoes, a dish that wraps you in a cozy embrace as you savor every delicious bite. May you find as much comfort and joy in it as we did. 🍂 🥧 ✨
Savory Shepherd's Pie with Gouda Mashed Potatoes
INGREDIENTS
- 1 pound ground beef
- 1 onion, finely chopped
- 8 oz mushrooms, sliced
- 1 cup green beans, chopped into bite-sized pieces
- 1 cup sweet potatoes, diced
- 1 cup carrots, diced
- 1 cup turnips, diced
- 1 cup parsnips, diced
- 1 cup green peas (fresh or frozen)
- 2 cans of Amy's Organic Tomato Soup
- 4 cloves garlic, minced
- 1 teaspoon dried thyme
- 1 teaspoon dried rosemary
- Salt and pepper to taste
- 2 cups gouda cheese, shredded, extra points if it's smoked!
- 4 cups mashed potatoes (prepared with butter and cream)
- 1 cup crispy onions (store-bought or homemade)
INSTRUCTIONS
1. Prepare the Meat Filling:
- In a large skillet, cook the ground beef over medium-high heat until browned. Break it into small pieces as it cooks. Once browned, remove excess fat.
- Add the minced garlic, chopped onions, and sliced mushrooms. Sauté for about 5 minutes until the onions are translucent and the mushrooms have released their moisture.
- Stir in the thyme and rosemary, then add the diced sweet potatoes, carrots, turnips, and green beans. Cook for an additional 5-7 minutes until the vegetables start to soften.
2. Create the Tomato Sauce:
- Pour in the two cans of Amy's Organic Tomato Soup, and mix well with the meat and vegetables. Allow the mixture to simmer for about 10 minutes, or until the vegetables are tender.
- Season with salt and pepper to taste. Adjust the seasoning as needed.
3. Add the Green Peas:
- Stir in the green peas and cook for an additional 2 minutes. Remove the skillet from heat.
4. Prepare the Mashed Potatoes:
- In a separate bowl, combine the mashed potatoes with 1 cup of shredded gouda cheese. Mix until the cheese is evenly distributed throughout the potatoes.
5. Assemble the Shepherd's Pie:
- Preheat your oven to 375°F (190°C).
- Transfer the meat and vegetable mixture into a large oven-safe casserole dish.
- Spread the mashed potato and gouda mixture evenly over the meat mixture. Use a fork to create decorative patterns on the surface if you wish.
6. Bake to Perfection:
- Place the casserole dish in the preheated oven and bake for 25-30 minutes or until the top is golden brown and the filling is bubbling.
- During the last 5 minutes of baking, sprinkle the remaining gouda cheese on top to create a cheesy, crispy crust.
7. Garnish and Serve:
- Once out of the oven, sprinkle the crispy onions over the cheesy top for added flavor and texture.
- Allow the Shepherd's Pie to cool slightly before serving. This comforting dish is best enjoyed with loved ones on a cozy evening. It can be accompanied by a simple salad and a nice glass of your favorite red wine! 🥧 🍲 ✨
---
Make It Your Own!
As the amber hues of autumn leaves cascade to the ground, crafting a quilt of warmth upon the earth, we are reminded of the simple pleasures life affords us. These are the moments to embrace and create beautiful memories. It's the art of creating intimacy and contentment in the simplest of acts, the warmth that comes from enjoying life's small joys. In these times, when the world's clamor can feel overwhelming, let us turn inward to the comfort of our own hearths, to the company of our loved ones, and to the creative spark that resides in each of us.
Take the stories and musings I've shared as a canvas, and with your palette of experiences, paint it with the colors of your life. Create a symphony of comfort in your kitchen, a tapestry of tranquility in your living room, and a cocoon of softness in your bedroom. Let each dish you prepare not just be a recipe followed, but a tale told; let each meal be not just nourishment, but a narrative of connection and celebration. Whether it is by reimagining a traditional dish with your own culinary twists or by crafting an entirely new creation that speaks to your soul, the act of making it your own is what imbues it with true meaning.
In this space, every shared insight, every recounted memory, becomes a collaborative quilt, to which each of you adds your own, unique patch. So, I encourage you to write back, share your stories, your successes, and even your beautiful mishaps. What kind of fun, beauty, and joy are you manifesting in your life? What comfort have you drawn from the kitchen, the garden, or the quiet moments tucked away with a book? As we step into the embrace of the coming winter, let's kindle the warmth from within and let it radiate outwards. Your engagement, your own stories, and your unique journey through life's simple pleasures are what make this tapestry of tales something deeply personal and infinitely beautiful.
Let's gather to elevate the everyday, to find wonder in the usual, and allow our collective tales to shine as light of serenity for ourselves and for those close to us who yearn for peace, kinship, and a dash of delight in their existence.
---
---
Join us as a Paid Subscriber and engage in the private chat with our wonderful circle of creative souls, all crafting beauty and forging bonds through their shared stories and inspirations!