Discover more from 🍯 Stirring the Senses 🍯
Immerse yourself in a delightful world of seasonal feasts and embrace the cozy joys of life, garden, and home. It's your chance to unwind and experience all the beauty that awaits you. Please join us as a paid or free subscriber! 🌿🌸🍃
Sunday Savorings
A Peek at my Week!
Ah, the holiday season—the time of year when decorations light up the night, and the air is filled with the scent of freshly baked cookies and evergreen boughs. It's a time for cozy gatherings, heartfelt traditions, and the warmth of family and friends. However, as much as we adore this enchanting season, it can also bring with it a fair share of holiday stress. But fear not, for in the spirit of embracing comfort and simplicity, we can find solace in simple practices that can help us navigate this busy time with grace and love.
First and foremost, let's remember that the true essence of the holidays lies in the moments we share with loved ones, not the perfection of our decorations or the extravagance of our gifts. Embrace the spirit of togetherness. Light a few candles, sip on a cup of hot cocoa, and gather your loved ones close. These small, intimate moments can be the most precious and memorable.
The Easiest & Yummiest Hot Cocoa
Ingredients:
- 2 cups of milk (whole milk for creamier cocoa)
- 2 tablespoons of unsweetened cocoa powder- I love Scharffen Berger
- 3 tablespoons of brown sugar (adjust to taste)
-1 tablespoon of organic butter
- 1/4 cup of water
- pinch of salt
- 1/2 teaspoon of vanilla extract
- Optional toppings: whipped cream, marshmallows, chocolate shavings
Instructions:
1. In a small saucepan, whisk together the cocoa powder, sugar, and salt.
2. Add the water and butter to the saucepan and whisk the mixture over medium heat until it's smooth and begins to simmer.
3. Reduce the heat to low, and stir in the milk. Continue to heat the cocoa, stirring frequently, until it's hot but not boiling. Be sure not to scorch the milk.
4. Remove the saucepan from the heat and stir in the vanilla extract.
5. Pour the hot cocoa into your favorite mugs and top with whipped cream, marshmallows, or chocolate shavings, if desired.
6. Enjoy your cozy and delicious homemade hot cocoa!
Feel free to adjust the sugar to your taste preference and add your favorite toppings ( I'm a huge fan of peppermint chips!) to make it even more delightful.
Enjoy!
---
In the midst of holiday shopping and preparations, please don't forget to take time for self-care. Find comfort in nurturing yourself with warmth and relaxation. Make sure to rest. Consider treating yourself to a luxurious bath, complete with soothing essential oils and soft music. Or simply snuggle up with a good book and a plush blanket, letting go of the pressures that often accompany this season.
When it comes to holiday gatherings and entertaining, remember that it's perfectly acceptable to keep things very simple. Focus on authenticity and genuine connection rather than striving for a picture-perfect party, especially if there are tensions within your family circle. Create an atmosphere where everyone feels welcomed and cherished. Share stories, play board games, and indulge in comfort foods that warm both the heart and soul.
As the holiday calendar fills up, be mindful of your own well-being and listen to your body and soul. If you're feeling overwhelmed, don't hesitate to decline an invitation or take a moment of solitude to recharge. Remember, it's okay to say no and prioritize your own peace and contentment. Taking time form some much needed rest is the best kind of selfish.
Above all, let's remind ourselves that the holiday season is a time for love and connection. In the midst of the hustle and bustle, find a sense of calm and appreciation for the simple joys of this season. So, light a few candles, wrap yourself in a soft blanket, and let love and warmth guide you through the holiday stress. In the end, it's these moments that make this season truly magical.
---
Celebrating the Magic of Women Gathering
Imagine a scene from another time: women gathered by firelight, their voices weaving through the night, sharing remedies, wisdom, and support. To some, this might have seemed like witchcraft, but it was, and still is today, the magic of women being women, empowering each other.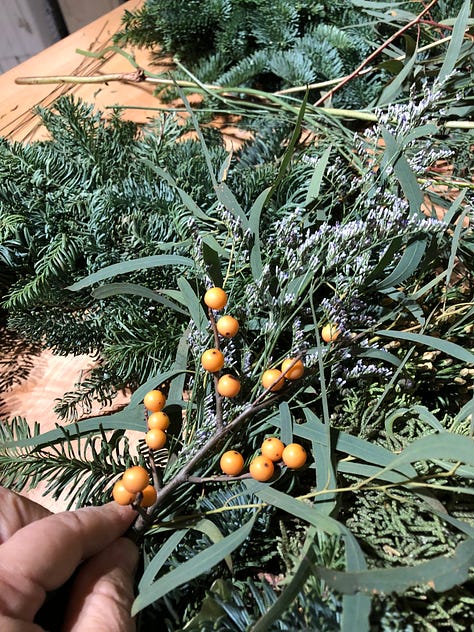 I THINK IT WAS JUST WOMEN 
It must have been a terrifying sight to behold,
a group of witches gathered by firelight, 
chanting, conjuring spirits, creating spells…

No wonder some were afraid.

But I think it was just women.

Being women.

Coming together, as they very much must,
to support one another, 
to share their battles and pull each other 
through the flames 
they faced daily.

Sharing remedies, medicines 
and ways to heal.

And believing they were so much more than told, 
than allowed.

It is little wonder that the power of this union would appear like magic, to the unknowing eye.

But I think it was just women.

Doing what we do, 

every day.
---
A Cozy Holiday Gathering
Amidst the holiday lights and the warmth of crackling fires, there's a certain enchantment that fills the air during this season. It's a time when friends come together, creating a sense of togetherness and joy that can only be described as magical. This year, my friends from the Western Reserve Herb Society and I embarked on a heartwarming journey of flavor, camaraderie, and herbal delights, crafting memories that will keep our hearts aglow for years to come.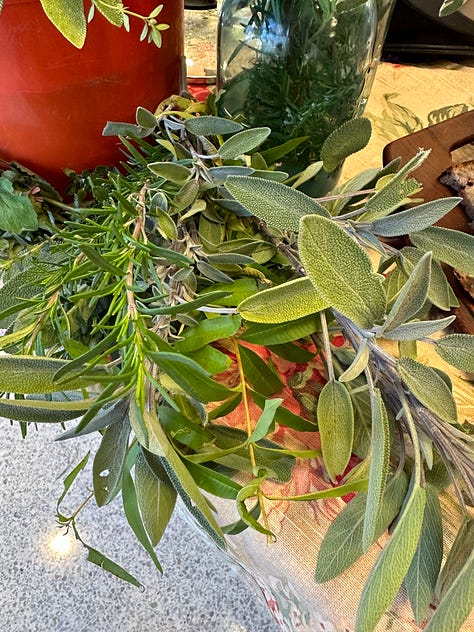 In the heart of our tight-knit circle, our gathering felt like a scene from a cozy tale. We brought tall sprigs of our favorite seasonal herbs or flowers, plucked from our very own gardens, to create exquisite centerpieces for our tables. This simple yet beautiful act set the stage for heartfelt conversations about the personal stories behind these cherished herbs, like a spell binding us together.
Together, we wove the threads of this enchanting afternoon, crafting three special creations that added to the ambiance:
1. Herbal Poultry Blend: A fragrant herb blend designed to elevate our holiday poultry dishes to new heights, infusing them with the essence of home and tradition.
2. Wassail Blend: With laughter and shared secrets, we blended ingredients to create a wassail blend that would infuse our holiday gatherings with warmth and cheer, a true elixir of togetherness.
3. Lemon Rose Tea for the Holidays: The aroma of rose petals and the zesty tang of lemon danced together in this soothing herbal tea, a delicious addition to our festive occasions to come.
But our gathering wouldn't have been complete without celebrating the art of culinary traditions. We organized a Holiday Recipe Swap, where each of us shared a beloved holiday recipe from our cherished family cookbooks. As we unveiled the origins and significance of each dish, we exchanged cooking tips and revealed the treasured family traditions tied to these delightful recipes. The room buzzed with excitement, and we made sure to print out our recipes, ensuring that everyone could take home a piece of this culinary history.
With the shared recipes as our guide, we indulged in a festive feast that can only be described as a Holiday Buffet Extravaganza. Each dish was a labor of love, prepared from the recipes we had swapped, offering us an opportunity to taste the creations of our dear friends, savoring the flavors of tradition, and toasting to the joy of friendship. As we clinked our glasses filled with hot cider spiced with our Wassail blend, the atmosphere was complete.
Amidst the warmth and coziness of our gathering, we celebrated our shared talents, mutual passions, and the deep bonds that make our friendships so special. It was a magical holiday celebration, infused with the comforting aroma of herbs and the boundless love and connection among all of us.
In this season of gratitude and togetherness, our gathering of women was a heartwarming reminder of the beauty of friendship and the joy that comes from sharing traditions, recipes, and the simple pleasures of life. As the holiday season continues, may we all find inspiration in such gatherings and create our own treasured memories with friends and loved ones, weaving the magic of togetherness into our lives.
The Western Reserve Herb Society is a Unit of The Herb Society of America
---
A Savory Apple Butter that was supposed to be Applesauce!
The recipe I lovingly prepared for our luncheon was a heartwarming apple and cranberry butter infused with the comforting essence of onions and walnuts. This delightful creation, flavored with a blend of aromatic spices, sweet honey, and rich maple syrup, emerged as a savory delight that harmonized beautifully with an array of meats, cheeses, and freshly baked breads.
It's a delightful tale, really. You see, this year's apples seem to have a touch of whimsy about them, as if they decided to dance to their own rhythm. They refused to thicken in the familiar way I've grown accustomed to. In that moment, I made a snap decision to introduce a tiny dollop of a cornstarch slurry and gently whisked it into the bubbling cauldron of apples.
In mere minutes, the mixture transformed into something extraordinary. It wasn't your run-of-the-mill applesauce anymore; it had evolved into a concentrated delight reminiscent of apple butter. And, I must say, the outcome was nothing short of magical.
As I set the table, the tantalizing aroma of this sauce filled the room. I paired it with a generous serving of creamy butter, a wheel of delicious white cheddar cheese, and a rustic, crusty loaf of sourdough generously studded with cranberries and walnuts. Each bite was a comforting symphony of flavors, a perfect marriage of sweet and savory, and a testament to the joy of simple, heartwarming gatherings.
Cranberry Apple Sauce/ Butter with Fresh Apples, Cranberries, Onions, Sage, Rosemary, and Walnuts
Ingredients:
- 8 medium-sized apples, peeled, cored, and diced
- 2 cups fresh cranberries
- 1 medium onion, finely chopped
- 2 tablespoons fresh sage, chopped
- 1 tablespoon fresh rosemary, chopped
- 1 cup walnuts, roughly chopped
- 1/4 cup honey
- 1/4 cup maple syrup
- 1 cup hard cider (use a bottle of your choice)
-2 tablespoons of organic butter
-1 teaspoon of cornstarch whisked into a cup of the hot juice from the apple mixture. (Optional)
Instructions:
1. In a large saucepan, melt the butter and combine the diced apples, fresh cranberries, chopped onion, sage, and rosemary.
2. Pour in the hard cider and place the saucepan over medium heat. Bring the mixture to a gentle simmer.
3. Stir in the honey and maple syrup, ensuring they are well incorporated into the mixture.
4. Allow the mixture to simmer for about 15-20 minutes, or until the apples and cranberries have softened and the flavors have melded together. Stir occasionally to prevent sticking.
5. While the sauce is simmering, preheat your oven to 350°F (175°C). Spread the chopped walnuts on a baking sheet and toast them in the oven for about 5-7 minutes, or until they become fragrant and lightly golden. Remove from the oven and set aside.
6. Once the sauce has reached your desired consistency, remove it from the heat. Use a potato masher or the back of a spoon to gently mash the mixture, leaving some texture.
7. Stir in the toasted walnuts, reserving a handful for garnish if desired.
8. Allow the cranberry apple mixture to cool slightly before transferring it to a serving dish.
9. Serve this warm or chilled, garnished with additional toasted walnuts if desired.
10. Enjoy your homemade cranberry apple sauce/butter as a delightful accompaniment to roasted meats, Thanksgiving turkey, cheeses or as a flavorful addition to your favorite holiday dishes.
Note: This cranberry apple sauce/butter can be stored in an airtight container in the refrigerator for up to one week or frozen for up to 6 months.
---
Make It Your Own!
As this festive season continues to unfold, let's remember the essence of these gatherings—it's not just about the food or the decorations, but about the warmth of being together, sharing stories, and creating memories. This is a time to embrace the joy of simplicity, to find beauty in the ordinary, and to weave a tapestry of warmth and comfort around us and our loved ones.
This is an invitation to make these moments your own. Why not start a new tradition this holiday season? It could be something as simple as crafting your own blend of holiday tea, or as elaborate as hosting a recipe swap with friends and family. Think of the apple butter that was meant to be applesauce—a delightful twist of fate that led to a new culinary discovery. Embrace the unexpected, for it often leads to the most cherished experiences.
So, gather friends, family, or both, and light a few candles, creating an atmosphere that speaks to everyone's heart. Share your favorite recipes, but don't be afraid to experiment and add your own touch. Let your home be a place where laughter echoes and where every dish tells a story. And remember, in every shared meal, every exchanged recipe, and every moment of togetherness, there lies the opportunity to create something truly magical.
This holiday season, let your gatherings be a reflection of your unique spirit. Whether it's through a special dish, a handmade decoration, or a heartfelt tradition, find ways to infuse your celebrations with your own essence. In doing so, you're not just creating memories—you're crafting a legacy of warmth and joy that will be treasured for years to come. Let's cherish these moments and make the magic of this season our own! 🎄 ❤️ ✨ 🎄