Discover more from 🍯 Stirring the Senses 🍯
Immerse yourself in a delightful world of seasonal feasts and embrace the cozy joys of life, garden, and home. It's your chance to unwind and experience all the beauty that awaits you. Please join us as a paid or free subscriber! 🌿🌸🍃
🍁 Sunday Savorings 🍁
A Peek at My Week!
Cozy Late Autumn Greetings! 🍂 ☕
I hope this edition of Sunday Savorings finds you wrapped in warmth and comfort. My sincerest apologies for the delay, but an autumn cold decided to pay me a visit. Thanks to some trusty Elderberry tea and many healthy doses of Vitamin D, I'm on the mend!
As I cozied up with my tea and a warm blanket, I found the perfect silver lining to my sniffles. You see, in my extra moments of rest, I've managed to create something I've been yearning for – a private chat space exclusively for our cherished paid subscribers.
This little corner of warmth and camaraderie is where we can share not only the stories and musings you find here during the week, but we can also delve into more personal tales and discoveries. It's a place where the cozy heart of our community can truly flourish. Curious to join in the conversation? Simply follow the link below! ☕ 📚
Let's embrace the essence of this cozy season and come together in this inviting space, where your thoughts, feelings, and stories are valued and cherished. I can't wait to share more cozy moments with you all. Until then, take good care, and may your days be filled with the warmth of a crackling fireplace, many great books, some silly cats and many cups of your favorite tea. 🍁 ✨
Wafting Sweetgrass & Sage your Way, and now for Sunday Savorings!
Beth
---
Embracing Kitchen Adventures or The Best Apple Butter I've ever Made! 🍏 🍯
Now it's time to regale you with a cozy tale from my kitchen, where a simple apple butter recipe turned into a crazy adventure filled with yumminess, warmth and wonder.
Before I fell under the weather, I was able to make a dozen jars of fresh apple butter, a labor of love for a favorite cause. You see, it's all in the spirit of the "Out of the Box!" fundraiser, hosted by the fabulous Les Dames d'Escoffier International - Cleveland Chapter. Our aim? To raise funds for our incredible grants and scholarships, all while sharing the delicious delights of local treasures, many of them home crafted.
Now, let me take you behind the scenes of this kitchen escapade. Apple butter, you see, has always been a breeze for me, a well-rehearsed symphony of flavors and textures that I've made over and over again, so many times that I could do it blindfolded. But this time, fate had a different recipe in mind. As I lovingly followed my trusted recipe, simmering apples, and drizzling in maple syrup, cinnamon and honey, something peculiar happened. The apples which are full of the natural pectin that makes the apple butter gel, decided to dance to their own tune and resisted all of my efforts to coax them into a thick and luscious butter.
In a moment of culinary desperation, I grabbed a box of Pomonas Pectin (it's really the best!), which, in a quirky twist, decided to play hard to get and wouldn't dissolve. In desperation I grasped my immersion blender like a wand and took a huge leap of faith. Suddenly the apple butter began to thicken and reveal itself. I ladled it into my prepared jars, water bath processed it, took it out and said a prayer. Then I waited.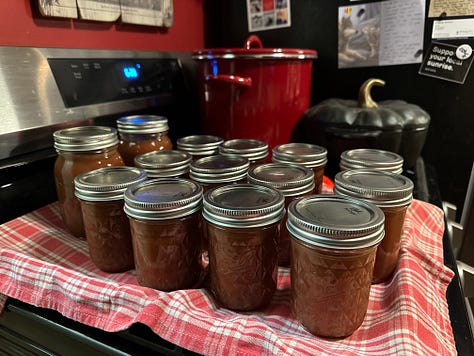 12 hours later when I tasted the result, it was nothing short of enchanting. Velvet-textured and bursting with vibrant flavors, it was an exciting testament to the magic of spontaneous culinary twists. My jars were labeled, sealed, and sent on their way, echoing the sentiment of my dear friend Melissa: "This is what I love about cooking. When working with a natural product, not all goes according to plan, but with experience, understanding, and a little luck, voilà!"
If you're feeling adventurous, I encourage you to embark on your own apple butter journey with my slightly eccentric recipe. 🌟 🍂 Who knows what cozy surprises await in your kitchen? You'll find my whimsical recipe below, and I hope you'll give it a try. This is the only way I'm going to do it from now on. 🥄 🍏
---
RECIPE: Heirloom Apple and Spiced Honey Butter
As the crisp winds of autumn sweep through the orchards of our beloved countryside, it's that time of the year when we celebrate the humble apple in all its diverse glory. And what better way to pay homage to this fall favorite than by crafting a velvety, rich apple butter that captures the essence of our local orchards?
This apple butter recipe is a harmonious blend of local apple varieties, a touch of warmth from cinnamon, the soothing embrace of apple cider, a luscious swirl of butter, and the sweet caress of maple syrup and honey. But there's a twist to elevate this apple butter to a symphony of flavors – the infusion of fresh sage in apple cider and a hint of liquid smoke for depth and complexity.
Ingredients:
- A variety of local apples (I recommend a mix of sweet, tart, and crisp varieties), approximately 4-6 lbs., peeled, cored, and sliced
- 1 tablespoon of powdered cinnamon
- 4 cups apple cider
- 2 cups of fresh sage leaves
- 1/2 cup unsalted butter
- 1 cup pure maple syrup
- 1 cup of raw honey
- Several drops of high-quality liquid smoke (adjust to your preference)
- Pomonas Pectin (follow package instructions for the quantity based on the number of apples)
Instructions:
- Begin by infusing the apple cider with the fresh sage leaves. In a small saucepan, gently warm the apple cider over low heat.
- Just as it starts to simmer, add the sage leaves. Turn off the heat and allow them to steep in the cider for about 20 minutes, infusing it with a subtle, earthy fragrance. Remove the sage leaves and set the infused cider aside.
- In a large, heavy-bottomed pot, combine your mix of local apples, the cinnamon, and the sage-infused apple cider. Set the pot over medium heat and bring the mixture to a gentle simmer.
- Allow the apples to simmer, uncovered, until they become tender and easily mashable. This should take about 30-40 minutes, depending on the apples' variety and ripeness.
- Once the apples have softened, it's time to introduce richness to the melody. Stir in the unsalted butter, allowing it to melt into the mixture, adding a luxurious creaminess.
- Add the maple syrup and honey to the pot. Continue to simmer, stirring consistently, until the mixture thickens and turns a deep, inviting shade of amber. This usually takes a very long time, often another hour.
- Finally, for that unforgettable smoky note to make it seem as if you'd been cooking this all over a wood fire, add several drops of liquid smoke. Start with a few drops, taste, and adjust to your preference. The liquid smoke should be a gentle background note, not at all overpowering.
- Here's where it gets a little bit unusual. To ensure the perfect texture, add the required amount of pectin according to the package instructions based on the quantity of apples you're using.
- With the pectin incorporated, use an immersion blender to create a velvety texture. Blend until the apple butter reaches your desired consistency.
- As the flavors harmonize and the apple butter thickens, prepare your jars.
CLICK HERE for a good primer for water ban canning for beginners! Trust me, it's easy and fun!
- Ladle the warm apple butter into sterilized jars, leaving a bit of headspace. Seal the jars and process them in a boiling water bath for 10-15 minutes, ensuring the apple butter remains safe for long-term storage.
- Allow the jars to cool, and once opened, savor your homemade apple butter on warm toast, as a condiment for roasted meats, cheeses or even as a delightful gift for loved ones.
This recipe is a tribute to the diversity of our local apples and the comforting flavors of fall. May your kitchen be filled with the delicious aroma of this apple butter, and I hope that you'll do what I do and simply enjoy it by the spoonful! 🍏 🍂 ✨
---
Scenes from a Glorious Indian Summer
Nestled within the heart of Wade Park Oval, within the Cleveland Botanical Garden, a hidden gem awaits – the WRHS Herb Garden. Since the 1940s, dedicated members of the Western Reserve Herb Society (WRHS) have nurtured this herbal haven, embracing its rich history and enchanting design.
This gardens glorious layout whispers of tales of medieval castles, grand manor houses, and serene monastery gardens. The nine distinct sections within the garden showcase the enduring beauty and versatility of herbs, each separated by stone walls with a history of their own.
Wander through our garden photographs in the site below and you'll discover timeless treasures like a 1910 horse-watering trough, stone horse mounting blocks, an antique sundial from 1795, and even a repurposed cylinder lawn roller that supports a charming metal armillary.
This sanctuary, hailed as one of America's most notable herb gardens, reflects the passion of WRHS members who lovingly tend to it year-round. I'm so proud to be one of the members who helps this garden thrive. Join me in savoring the rich tapestry of history and nature that thrives within this enchanting space.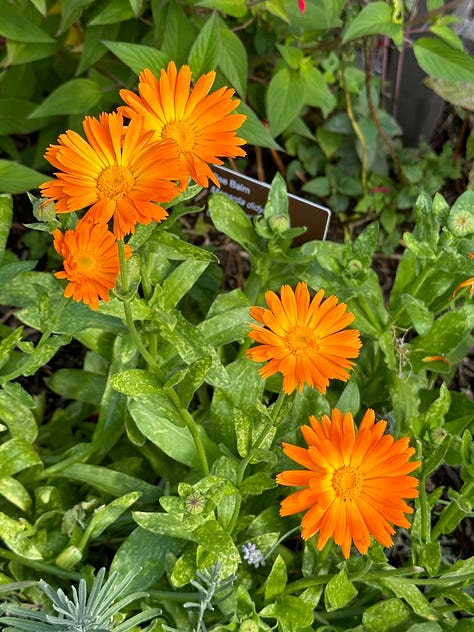 ---
Being a Fairy Granny is Wonderful Work!
One of the most delightful experiences in my life these days is assisting in raising my grandson, Wolfie. To say that I cherish our time together is an understatement; it's an absolute joy to nurture this young soul, and the journey feels refreshingly similar to raising his father. Some things remain the same, like our daily kitchen dance and tending to our garden. But what truly warms my heart is safely introducing him to the world of flavors using great technology that wasn't around in 1987!
Feeding Wolfie is a delightful adventure, and I relish in offering him new tastes and textures. I place him snugly in his highchair, and as I prepare his food, we share laughter and silly conversation. Just like his dad, he has a fondness for cooked apples which is just such a wonderful food memory. This week, I prepared a special meal for him – tender mashed potatoes, organic smoked turkey, fresh apple butter and a little bit of cottage cheese. Speaking of which, if you haven't had the pleasure of trying Good Organic Cottage Cheese, you're in for a treat. It lives up to the hype and is truly the first cottage cheese I've enjoyed in years. At any rate, we have a wonderful time eating lunch together and then Malcolm gets the rest!
One of the wonderful developments in baby raising and a significant leap from when I last had the privilege 35 years ago, is the availability of technology that provides invaluable information for ensuring a happy and healthy diet for infants. At the gentle insistence of my daughter-in-law, I downloaded an app on my iPhone called Solid Starts.
According to their website:
"Featuring our free First Foods® database, the Solid Starts App allows you to look up any food to determine its safety for your baby and learn how to prepare it based on your baby's age. Developed by a team of doctors, pediatric feeding therapists, dietitians, and an award-winning allergist, the Solid Starts app is free to download, and the entire food database within the app is free to access. The app also offers an optional subscription, which allows you to track the foods your baby has tried, monitor for allergic reactions, and access a variety of recipes."
If you're a new mom or granny like me, you'll really appreciate the help!
---
What are you enjoying this Autumn?
As the vibrant energy of summer gracefully recedes, my cozy reading corner transforms into a haven adorned with towering stacks of books and journals. Autumn arrives as a gentle reminder, beckoning us to rekindle the flames of our quest for knowledge. With each passing night and the chill of the autumn breeze, there's an undeniable magic in settling down with a steaming mug of tea or mulled wine, immersing myself in the pages of cherished books and magazines, particularly those that deepen my bond with the natural world.
In my cherished chair, cozily adorned with a soft blanket, contented cat and a comforting footstool, nothing brings me greater joy than losing myself in the enchanting world of a captivating book. It's in those moments of reading that I find relaxation and connection.
Autumn, the season of renewal, calls upon us to recommit to rest, rejuvenation, and the pursuit of knowledge. It's a time to delve deeper into our studies and nourish our spirits with the wisdom bestowed by the changing seasons.
With every leaf that gracefully descends, let it serve as a gentle reminder of the vast ocean of knowledge that eagerly awaits us in our studies, and the pure delight of uncovering it, one sip, one page at a time.
So friends, what are you presently exploring and finding joy in during these exquisite autumn days?
May your literary journeys be filled with wonder and inspiration, and we'll meet again next Sunday 📚🍁✨
---