🍁 Sunday Savorings 🍁
A Peek at My Week!
Our recent journey to Asheville, framed by the picturesque canvas of autumn's vibrant colors, held a heartwarming purpose: to welcome a new, four-legged addition into my brother and sister-in-law's growing furry family. Jenny Bird, our captivating new family member, is an adorable Cavalier King Charles Spaniel and Bichon cross and her charm is boundless and irresistible. With each passing day, she effortlessly spellbound us, firmly establishing herself as the household's reigning princess ( or Princess Penelope as I occasionally call her!).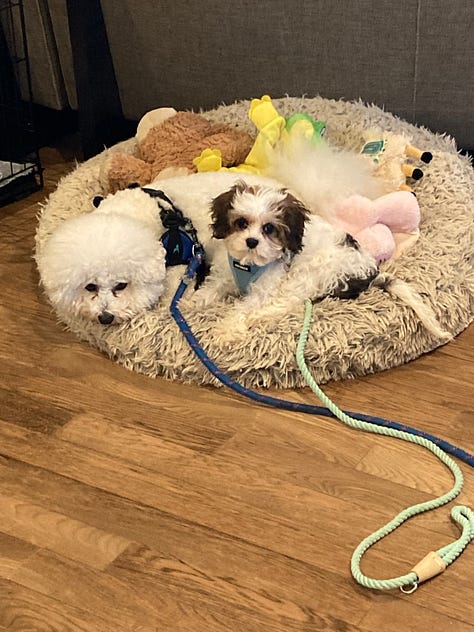 The most heartwarming moments unfolded in the form of an instant bond between Jenny Bird and her newfound brother, Bear. Their friendship blossomed rapidly, and even Chelsea, their wise senior sister, couldn't resist the allure of their playful romps and shared adventures.
Consequently, our weekend nestled amidst the embrace of the North Carolina mountains became an idyllic tapestry interwoven with laughter, delectable feasts, cherished family moments, and, of course, the gentle and bouncy touch of furry paws, etching an indelible mark upon our hearts. 🐾🍂🌳
---
A Touch of Autumn Color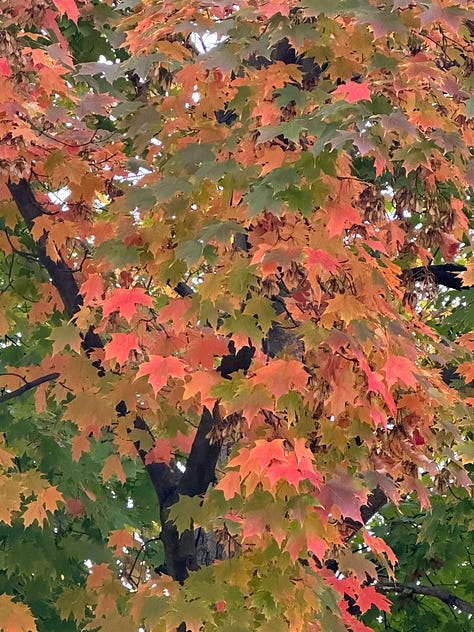 ---
Taking Thyme for Tea!
Friday, October the 13th graced me with an abundance of good fortune as I represented the Western Reserve Herb Society at the hallowed grounds of Case Western Reserve University, in the Kelvin Smith Library. The program I had the pleasure of presenting bore the title "Take Thyme for Tea," a journey that traversed the captivating realms of tea's rich history, the art of tea crafting, the unveiling of herbal tea's well-guarded secrets, and the gracious rituals that elevate a humble cup of tea into an exquisite experience.
Amidst the ivy-covered walls and the gathered camaraderie, we embarked on this enchanting voyage, eager to soak in the wisdom and allure that this
Keep reading with a 7-day free trial
Subscribe to 🍯 Stirring the Senses 🍯 to keep reading this post and get 7 days of free access to the full post archives.